Jessica Simpson's Daisy chain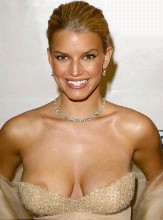 [Femalefirst.co.uk] -Jessica Simpson is to open her own chain of barbeque restaurants called 'Daisy Duke's'.

The 'Dukes of Hazzard' star will provide backing for the restaurants - which will feature scantily-clad waitresses in tiny hot pants - named after her most famous screen character from the film remake of the hit TV show.

The business plan was thought up by Jessica's father and manager, Joe Simpson, 48.

A source told America's Life and Style Weekly magazine: "Joe's going to make a lot of money from this."

The flagship eatery will open in Las Vegas' Caesar's Palace next year, and Jessica will reportedly commit to make at least five appearances at the venue each year.

A spokesman for the 26-year-old star, whose divorce from Nick Lachey was finalised this year, has so far refused to confirm the restaurant plans.