NAUTICA THORN DEBUTS AT ADULT CON AND IN THE LOS ANGELES DAILY NEWS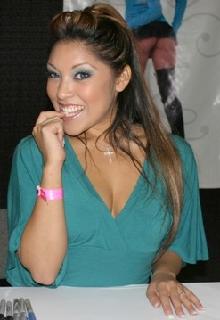 (Hollywood, CA) Amazed and delighted at the throngs of fans who waited anxiously for a few moments of her time, Nautica Thorn greeted thousands who attended Adult Con this past weekend.

Armed with loads of her favorite DVDs and 8X10s, Nautica posed for photos, signed autographs, and met with several journalists for interviews. She was featured in Sunday's edition of the Los Angeles Daily News and many other media sources that covered the bi-annual event held at the LA Convention Center.

Fans waited patiently in lines that extended well down the aisle in which the erotic adult film star's booth was located. Finally making it to the front of the line, attendees were enthralled with her exotic looks andcharming personality, so much so in fact that Nautica sold out of her extensive stock of merchandise the first day of the show.

Pleased with her first Adult Con experience, Thorn said. "I just want to thank all of my friends and new fans that stopped by to see me this weekend, I really had a great time! I always get excited when I get to meet my fans one on one and I was thrilled to hear that they can't wait for my new movie Nautica Thorn's All Access from my company Nautica Thorn Productions to come out."

"More importantly, now they have the right website information for my official site www.EnterNautica.com which launches mid October." Thorn continued. "Thank you again for making my Adult Con debut one I won't forget. Can't wait till the next one!"

If you can't wait for the next Adult Con either, fans of Nautica Thorn can contact her through her My Space page at http://www.myspace.com/nauticathornxxx.