LITTLE ROCK, AR -- Police went to a home in Texarkana after receiving a report that a man had entered it illegally and later found their suspect running nude through a pasture.

Nineteen-year-old Tim Smith of Texarkana was charged with residential burglary, third-degree assault, fleeing, disorderly conduct and refusal to submit to arrest. No bond was set and he was being held for a mental evaluation.

Police say Smith entered a home Wednesday through an unlocked door and was confronted by a woman in the home, Linda Smith, who is not related to Tim Smith. The woman said Smith announced he was there to have sex with her. Linda Smith says, "I told him I didn't think so and that he needed to leave."

The man left. When police arrived they found Tim Smith running naked through a nearby pasture, chasing horses and pulling their tails.
TAMPA FL (UPI) -- Three bikini bar owners in Tampa, Fla. have filed suit against an ordinance prohibiting physical contact between customers and scantily clad employees.

The trio contends the ban illegally restricts their First Amendment right to free speech and seek an emergency order blocking the ordinance until a jury trial can be held, the St. Petersburg (Fla.) Times reported.

The ordinance against touching was one of three passed by the Hillsborough County (Fla.) Commission to regulate adult businesses, the Times said. Local governments say these businesses invite prostitution, illegal drugs and lewd behavior.

Officials are unable to predict the outcome of the bikini bar suit given what they say is the murky nature of court rulings concerning adult businesses with the defining of obscene considered key, the newspaper said.
Porn Valley- This is it, folks - the final celeb list of CONTRACTED STARS for the upcoming 14th ANNUAL invitational (Oct 5-8) Tampa Show is shown below. Naturally, there will be MANY other celebs and stars coming in on their own to hang out including (I hear rumors) folks like Jules Jordan, Jenna Haze, Stormy, and many others.

There will be well over 50 stars making this once again the largest event of its type east of Las Vegas!

Contracted stars shown in the order confirmed: Ron Jeremy, Mike South, Lisa Sparxxx, Liv Wylder, Tricia Devereaux, Kinzie Kenner, Joanna Angel, Kimberly Kane, Gia Paloma, Heather Pink, Tony Batman, Jesse Jane, Teagan Presley, Sara Jay, Britney Foster, Whitney Wonders, Ethan Cage, Lexi LaMour, Alexis Amore, Sunny Lane, Hillary Scott, Mya Devine, Eric Masterson, Amber Peach, DynaMite, Stephanie Swift, Cousin Stevie, Dimond Jewelz, Skylar Star, Lisa Ann, Trina Michaels, Christal Rose, Ava Rose, Mia Rose, Carmen Luvana, Sophia Lynn, Jersey Jaxin, Samantha Silk, Jada Fire, Rob Rotten, Randy Spears, Devinn Lane, Demi Delia, Brooke Haven, Brianna Love, Dana Duval. Again, we have a contract in hand for everyone above to appear (except Mike South but that redneck hasn't missed one in 12 years so he will be there!).

Imagine the possibilities...For further details and a list of appearances check out TampaShow.com and nmaea.com

last-minute scratch: Nikki Benz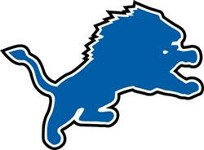 SEATTLE (UPI) -- NFL teams regard loud stadiums like Seattle's Qwest Field as a home advantage, but the league is looking to make crowd noise less a problem for visitors.

NFL officials are looking into the possibility of a helmet-to-helmet wireless communication system for visiting players to help them to work around the raucous crowds, The New York Times reported.

The concept is aimed at finding a level of equality for both sides of a football game in relation to penalties and success, without taking away from the fun and excitement of cheering for the home team.

"That's what our game is about: our athletes and coaches playing at the highest possible level and being able to execute their game plans," said NFL Commissioner Roger Goodell earlier this month.

"To some extent right now, I think we are hindering that a little bit," he said, "because they come into an opposing stadium and they are not able to put the full offense in, they are not able to run plays in, they are not able to change the plays at the line of scrimmage."

With the Monday night game yet to be played, the Pornlegends' crew posted a poor 8-5 record Sunday. Below is their take on Sunday's results.

Chicago 19 Minnesota 16 [W] - A late Vikings' fumble gave the Bears the break they needed to get a late touchdown and the win.

Green Bay 31 Detroit 24 [L] - Favre puts together a solid game to edge the Lions.

Miami 13 Tennessee 10 [W] - A rushing TD by Culpepper and a late game field goal help the Dolphins get past the Titans.

Jets 28 Buffalo 20 [L] - Don't look now, but the Jets are tied with New England for first place.

Washington 31 Houston 15 [W] - Redskins get their first win against the sorry Texans.

Cincinnati 28 Pittsburgh 20 [W] - The Bengals made a statement.

Indianapolis 21 Jacksonville 14 [L] - Jags did everything but win. A Peyton Manning rushing TD and a punt return for a TD saved the day for the Colts.

Carolina 26 Tampa 24 [W] - A late field goal for the Panthers gets them the victory. Chris Simms out 4-6 weeks with an injury only makes things worse for the Bucs.

Baltimore 15 Cleveland 14 [W] - A late field goal saves the day for the now 3-0 Ravens.

Seattle 42 Giants 30 [W] - A late rally couldn't get it done this week for the Giants.

St. Louis 16 Arizona 14 [L] - Kurt Warner's 3 INT's help sink the Cardinals.

Philadelphia 38 49ers 24 [W] - Eagles bounce back from their lose last week.

Denver 17 New England 7 [L] - Jake Plummer's two TD passes propel the Broncos past the Pats.
[Chicago Tribune] - LAS VEGAS -- Some 20 years after changing tastes prompted its demise, the Playboy Club is rising again in a city always on the lookout for the next temptation.

Those fabled cocktail waitresses in bunny ears and that hipster lifestyle embodied by aging icon Hugh Hefner will be getting a second chance to woo a new generation of cool cats at the Palms Casino Resort here, starting Oct. 6.

Unlike the Playboy Clubs of the past, done in by mediocre food, boring lounge acts and a dated image, this one is banking on America's seemingly insatiable appetite for gambling. Its 21st Century bunnies will be dealing blackjack and spinning roulette wheels in addition to their traditional duties of delivering drinks and flaunting cleavage.

Their compact new bunny hutch on the top floors of the Palms' "Fantasy Tower" will sport custom details that only high rollers could support, from $275,000 black-crystal chandeliers to $300-per-square-foot alligator skin wall coverings. With a capacity of just 500, it targets a more exclusive audience than the original mass-market operation, which had 800,000 "keyholding" members as recently as 1982.

This scaled-down Playboy Club is bankrolled by George Maloof Jr., whose billionaire family owns the Palms, as well as by the N9NE Group restaurant and nightclub chain led by Chicago natives Scott DeGraff and Michael Morton--whose late father Arnie developed the original clubs for Hefner in the 1960s, and whose brother Peter co-founded the Hard Rock Cafe.

Chicago-based Playboy Enterprises Inc. put up no cash but supplied a license, its photo archive and the 80-year-old "Hef's" creative guidance.

Some of the same qualities that made Playboy Clubs a hit in their early days almost half a century ago will be at work today, the partners say.

"It was a matter of paying homage to the past in a modern, contemporary style," said Morton. "It's smaller, more intimate, higher quality. It smells of wealth and money."

Maloof said the club's basic proposition should be an easy sell: "Playing blackjack in a very intimate setting with very pretty girls around appeals to people."

Naturally, not everyone sees a winner in the making.

"People will go for the novelty factor, but in this day and age what's the staying power of seeing fully clothed women?" asked Marc Bell, chairman of competing Penthouse Media Group, which operates 10 high-end strip clubs and plans to open four more this year. "It's old thinking. Ours is much more hip."

N9NE Group's DeGraff promises that the bunnies will measure up to modern definitions of sexy. "When you see the bunny costume and the women in it ... best women in Vegas," he gushed. "I highly doubt anyone will get tired of seeing our staff."

The debate over the new venue's tameness illustrates how times have changed since the Playboy Club first started ushering in the sexual revolution on a frigid February night in Chicago 46 years ago.

Hef already had made Playboy magazine a success, and the club enabled him to bring the sex fantasies of his generation to life, combining cabaret-style entertainment with the lure of the bunnies.

The clubs expanded into a far-flung chain that gradually lost its charm over the years, eventually attracting more conventioneers than swinging singles. By the late 1970s Playboy's separate casino operation in the United Kingdom paid most of the bills.

When regulators abruptly kicked the company out of gaming in the early 1980s the clubs' weak economics were exposed. Losses mounted and prized real estate such as the resort at Wisconsin's Lake Geneva was sold.

A last-ditch salvage effort by Chicago restaurateur Rich Melman fell short, and in 1986 Playboy took a $13.6 million charge to close its three remaining company-owned clubs in Chicago, New York and Los Angeles.

Now, with its clubs long gone and its magazine losing money, Playboy's biggest single business is selling explicit programming through pay TV. Its stock is under pressure, and the company is counting on its licensing arm to come on strong.

Last week, as she announced a management shake-up, Chief Executive Christie Hefner praised licensing as "our fastest-growing and highest-margin profit center" and voiced high expectations for the Palms opening.

"We think this is the perfect time to bring the Playboy brand to life in Las Vegas with a multifaceted entertainment venue," Hefner said. "It's another avenue of allowing fans to experience the Playboy lifestyle first hand."

At least one institutional shareholder has criticized Playboy for selling a license rather than operating the club itself, but analyst Robert Routh of Jefferies & Co. likes the terms of the deal, especially considering that the clubs failed when Playboy ran them.

"They don't want to be there again," Routh said. "They get a cut of sales and winnings, and if it doesn't work they aren't economically exposed."

Indeed, the hospitality business demands an intense focus that DeGraff and Morton are accustomed to providing.

Last week DeGraff supervised the finishing touches at the club, directing a carpenter to cut a space in the side of the bar so bunnies can pick up drinks more easily, and fretting over magnetic wall tiles stamped with the rabbit-head logo that wouldn't stay tacked down.

Dressed in shorts and sandals, waving at blueprints with an unlit cigar, DeGraff proudly showed off the 60 video screens along one wall displaying pictures of Hef, his youthful girlfriends and Playboy magazine covers from long ago.

A gray-haired contractor working at the site looked up just in time to see a 1978 cover with country singer Dolly Parton flash on a screen. "Dolly?" he mused aloud. "That's going back a few years."

The target market for this club is not the college crowd--too poor--but rather 30- to 55-year-old men with money, and the twentysomething women some of them chase.

A similar crowd already frequents the Palms, a boutique property about a mile off the Las Vegas Strip. Besides a casino, the Palms' big attraction is its Ghostbar nightclub, Rain dance club and N9NE steakhouse, hotspots run by the N9NE Group that draw a sprinkling of celebrities as well as attractive, expensively-clad partyers.

The Playboy Club will be sandwiched between a new N9NE Italian restaurant on the floor below it and a penthouse dance club above with a dramatic retractable glass roof.

Patrons shelling out the $20-to-$50 cover charge will be free to move between Playboy and Moon, the dance club, which also holds 500--much smaller than most new Vegas dance spots.

Playboy may license clubs elsewhere in the future, but this particular format is likely to be one of a kind, said Maloof. "You can't open it across the country because of the gaming."

If all goes according to plan the rich, famous and beautiful will sashay in, while the rest hang out at the velvet rope. "There's going to be very long lines here," DeGraff predicted.

As DeGraff supervised the final construction details last week his partner was busy scrutinizing wannabe bunnies.

"I've interviewed every bunny server and, believe it or not, it's grueling," Morton said. "They've got to be fun, caring, smart, sexy. It's a very difficult hire."

Few of the women chosen to be bunnies had previous experience as dealers or croupiers, so those destined for the gaming tables were hired awhile ago and sent to an intensive gambling-school program. As of last week, though, not all the cocktail-server jobs were filled.

Women from around the world applied, Morton said, drawn by the allure of the brand as well as the prospect of "six-figure-plus" annual earnings.

The club will open at 7 p.m. and close at 4 or 5 a.m. It will be loud, and successful bunnies will need to fight through the crowd with drinks as adroitly as they chat up select customers.

And, of course, looking good in the uniform is essential, even in the wee hours after a long shift of la bunny vita. As Morton noted: "It's a very strenuous work environment."
DALLAS [AP] — About a dozen residents of a Dallas neighborhood beat a man after reports that he had been showing pornographic pictures to children on a playground, police said.

Brandon Scott Burke, 20, showed up Wednesday at an Oak Cliff apartment complex and was alleged to have shown a magazine with pictures of naked women to some of the children playing there, police said.

When one of the mothers saw him and asked Burke what he was doing, he tried to run and the woman started screaming, said Elizabeth Williams, the mother of another child. According to a police report, Burke said about 15 men "jumped him and hit him repeatedly on the face with their fists." He suffered minor injuries, police said.

At least four children saw the nude pictures, police said. Burke was arrested on suspicion of harmful display to a minor.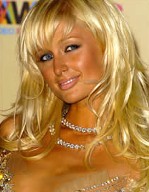 [The Sun] - In probably the least shocking celebrity statement of the decade, Paris Hilton has admitted that she's "not like that smart".

The confession was made when the star helped police officers with an investigation into a burglary at the house of Hollywood porn baron Joe Francis.

When cops asked her what she knew, the socialite said: "I'm not that smart... I don't remember... I forget stuff all the time."

The man in question, Darnell Riley, admitted the offence earlier this year and was sentenced to nearly 11 years in prison.

On the tape Paris also told cops that an anonymous man had called her to try and extort money for the return of 'private tapes' stolen from her house.

"They were trying to sell it to a newspaper or something," she explained.

"So if you pay somebody, then you're gonna be paying for the rest of your life.

"My dad always taught me. They'll keep the tape anyway."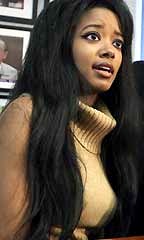 NEW YORK [AP] — A Playboy Playmate has sued a taxi driver, police and the city, claiming that officers roughed her up based on the cabbie's false accusation that she was armed and dangerous.

"It was a nightmare," Stephanie Adams, 35, said at a news conference Friday announcing the lawsuit, which seeks unspecified damages.

The city had no immediate response. The cab driver, 40-year-old Eric Darko, denied any wrongdoing.

"She thinks she's got a case, but I didn't do nothing," Darko said when reached by telephone.

The lawsuit stems from a May 25 incident that began when Adams -- Miss November 1992 -- caught Darko's cab to take to her apartment. After they argued over where to drop her off, he cursed her out, called 911 and made the false report that she had a gun, Adams alleges.

Adams said she made her own 911 call after Darko pushed a rear car door into her as she tried to get out.

A few moments later, plainclothes police officers surrounded Adams on the street with guns drawn, grabbed her purse and pushed her to the ground, she said. When they searched her bag and realized she was unarmed, they let her go without an apology.

"It was not necessary for them to throw her down to the ground," said Adams' attorney, Sanford Rubenstein.

The complaint filed in state Supreme Court in Manhattan accuses police of assault and claims Adams "suffered great pain, distress, mental shock, mental anguish and psychological trauma."

Adams also complained to the city Taxi & Limousine Commission, which has suspended Darko's taxi license. A TLC investigator reported that the driver told him he called 911 after she flashed her "vampire teeth" and threatened to shoot him.

Darko denied making the vampire remark. He accused Adams of causing the ruckus by refusing to pay him a $9 fare, then warning him she had a gun.

"I didn't start anything with her," he said.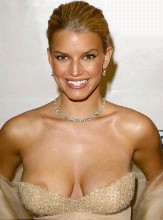 [Femalefirst.co.uk] -Jessica Simpson is to open her own chain of barbeque restaurants called 'Daisy Duke's'.

The 'Dukes of Hazzard' star will provide backing for the restaurants - which will feature scantily-clad waitresses in tiny hot pants - named after her most famous screen character from the film remake of the hit TV show.

The business plan was thought up by Jessica's father and manager, Joe Simpson, 48.

A source told America's Life and Style Weekly magazine: "Joe's going to make a lot of money from this."

The flagship eatery will open in Las Vegas' Caesar's Palace next year, and Jessica will reportedly commit to make at least five appearances at the venue each year.

A spokesman for the 26-year-old star, whose divorce from Nick Lachey was finalised this year, has so far refused to confirm the restaurant plans.
Search This Site

Syndicate this blog site

Powered by BlogEasy


Free Blog Hosting